There is a legend among the O'Dea families in the Townland of Milltown in the ancient Parish of Aglishcormick, County Limerick, that the O'Deas originated in County Clare, that four brothers were evicted from their land, and that they were traveling to Queenstown (Cobh) in County Cork to emigrate. When they reached County Limerick, two brothers decided to settle in Aglishcormick. The other two emigrated, were never heard from again, and are known as the "lost O'Deas."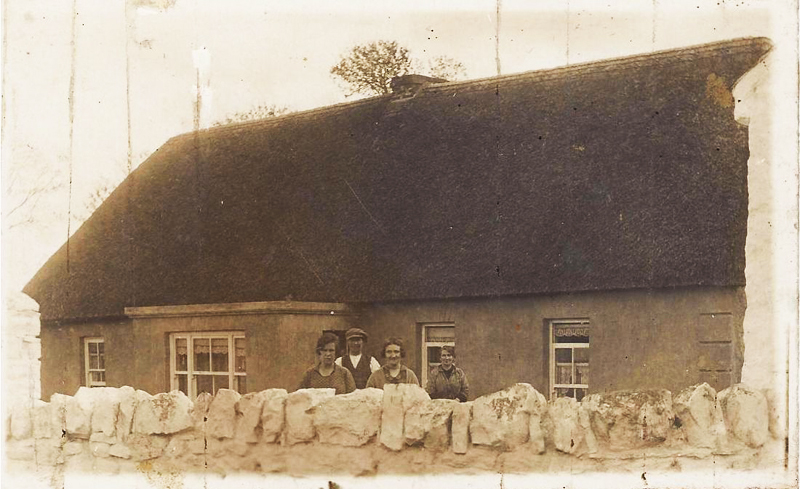 The O'Dea Homestead North of Kilteely
The O'Deas of Aglishcormick: The O'Dea Families may have originated in County Clare and emigrated to County Limerick in the early 18th century. Three primary lines of O'Deas can be distinguished within the small Parish of Aglishcormick.
The Apjohns of Pallasgreane: on a day in 1785, Mary Apjohn, the Protestant daughter of a landed family from Pallasgreane, decided to take a ride in the country. It being a hot day, she stopped at a local cottage and asked for a cup of water. The man she met there, a well-built, red-headed fellow, was destined to become her husband. When John O'Dea and Mary Apjohn married, they defied traditions of animosity between Catholic and Protestant as well as relationships between well-to-do Anglo-Normans and poverty-stricken native Irish. The family history of Mary Apjohn begins with Thomas Apjohn who acquired land after the Confederate War of 1641.
Darby and Johanna Murnane O'Dea: Darby O'Dea was born and raised on a small plot of land a little north of the village of Kilteely in the Townland Miltown in the Parish of Aglishcormick in County Limerick. He married Johanna Murnane in St. Ailbe's Church in Emly on February 6, 1842. When their first son died during the Great Famine, Darby and Johanna emigrated on April 8, 1848, from Galway and arrived in New York on May 11, 1848.
Patrick and Margaret O'Dea Ryan : Patrick Ryan immigrated to New York in 1898 and Margaret O'Dea followed in 1902. They were probably sweethearts in Ireland and Patrick went on ahead to get a job and establish himself. Soon after the couple married in 1906, several of Margaret's siblings also immigrated and they all lived together in the Bronx.
Bridget and Michael O'Dea: In 1841, Bridget O'Dea Lynch emigrated to Australia. Bridget's brother Michael followed in 1844. He was a bounty emigrant and records state he "has a sister in the Colony married to a man named Lynch." He originally arrived in Sydney and from there it is thought that he went to The Gap near Yass in New South Wales. He married Mary Purtell in 1848 in Bowning, New South Wales. He then joined the Californian Gold Rush in the United Staes of America 1849 to look for gold. He returned to Yass in Australia before travelling south to join his sister in the Tower Hill district in south -west Victoria. He became licensee of the nearby Carleton Inn, Killarney. The pub still stands and is operated today as a motel.